Family Music Classes
Music & Movement Classes for children ages 6 months to age 5!

Our program provides a creative environment for making music through the exploration of singing, playing instruments, listening, movement and imaginative play. Parents (or a caregiver) and children participate together in the classes.

We have a fall semester, winter semester and spring semester (no classes during the summer):
Classes are offered Monday's and Thursday's:
Monday Classes:
10:00AM - 10:30AM
10:45AM - 11:15AM

Thursday classes:
10:00AM - 10:30AM
10:45AM -11:15AM

SPECIAL NOTE: The Monday and Thursday 10:00AM classes for the spring semester are currently filled. If you would like to be added to our waiting list, please call the church office 610-375-7163.

2017 - 2018 Schedule (schedule is subject to change as needed)
Fall Semester: weeks of Sept. 11th - Oct. 30th
Winter Semester: weeks of Jan. 22nd - Feb. 26th
Spring Semester: weeks of March 12th - May 14th (NO classes weeks of March 26th & April 2nd)
Registration is required. Families can join the classes anytime - please call first to check available class times as some class times fill quickly. Pre-registration is highly suggested as class sizes are limited.

Our music instructor is Carla Seidel. Carla founded this program in 2002 as an outreach program. Carla has received certification through Musikgarten, the Early Childhood Music and Movement Association, Music Rhapsody, Kutztown University Academy for Church Organ Studies and the American Guild of Organists. Carla has studied at Alvernia College and Columbia University. In addition, Carla has more than 25 years experience as a Church musician directing various choirs for children, teens, adults, handbells and instrumentalists.

There are no instructor fees. Suggested class donation/fee $25.00 per child/per semester, $10.00 additional child registered. Donations in any amount accepted, funding is also available. All fees/donations are applied to the cost of instruments and materials used in the classes.

Please contact the church office 610-375-7163 for more information or to register for the classes.

In the event of inclement weather, class cancellations will be listed on wfmz.com and channel 69 under "Bethany Lutheran - West Reading Family Music Classes".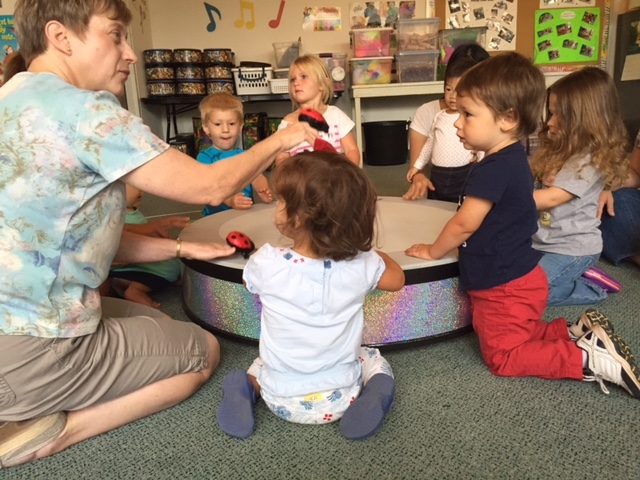 Ladybug song!
Family Music Class Registration Form!
Please send registration forms to:
Bethany Lutheran
attn: Carla Seidel
336 Franklin St.
West Reading, PA. 19611
Forms can also be submitted the beginning of each semester.